Le'Taj Tinker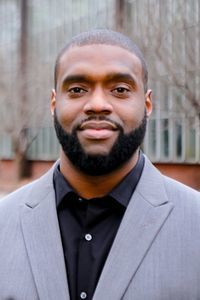 Proudly hailing from the sunny isles of the Bahamas, Le'Taj has a unique design background of more than 10 years of field and office experience, which includes architecture, urban design, historic preservation, and community development.
A licensed architect by profession, Le'Taj has accumulated substantial experience through his work on affordable-housing developments, sustainable developments, and residential and light commercial construction in both the non-profit and for-profit sectors. This has allowed him to develop an acute understanding of, as well as the ability to operate within and between, community organizations, for-profit entities, and government entities.
With more than 8 years of experience working with non-profits, Le'Taj focuses on the revitalization of disenfranchised minority neighborhoods, as well as increasing the number of minority professionals in the field of architecture and its allied fields.
Le'Taj is the Principal of TINK+Design architectural firm and serves as Director of Community and Economic Development for Operation Better Block. He has served on the boards of several development organizations within the City of Pittsburgh and is a member of the National Organization of Minority Architects' (NOMA) Pittsburgh Chapter and the International Facilities Management Association (IFMA).